Conway Summit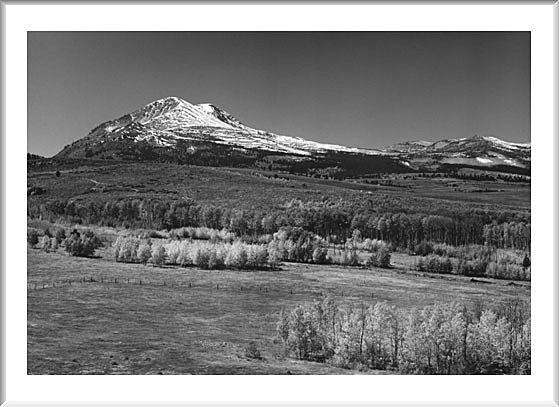 All images copyright (c) by Greg Fisch
On the way to Bodie, California one Autumn day, I was watching the shape of Conway Summit change as we drove past. It was a horrible time to make a photograph... high-noon, perfectly clear sky, the grass was brown and the leaves were just starting to turn amber. To top it off, all of my film holders had been loaded with Plus-X, not the best for low-contrast scenes like this.
As I continued to drive, I saw this view pass by. After giving the situation much thought, I decided to turn around and at least give it a try.
The scene only had a range of about 3 Zones, so I split the difference and exposed for the middle. Using a deep yellow filter to help separate the sky, ground, and shadows, was the best I could do. Even with N+2 development, the print must still be made on Grade 5 paper.
Camera: Cambo SCII
Lens: Schneider Super Angulon 90mm f8
Film: Plus-X 4x5
Development: Normal+2 (Full)